St. Scholastica Priory is a community of Catholic Benedictine contemplative nuns located in central Massachusetts. Surrounded by thousands of acres of forested conservation land, the monastery enjoys a peace and natural beauty conducive to a prayerful atmosphere. Our lives are dedicated to seeking union with God through the monastic life of charity lived in community. The Gospel and the Rule of St. Benedict are our guide, and the praise of God is central to our day: the Mass and the Divine Office are sung using Gregorian Chant, and are celebrated with our twin community of monks, St. Mary's Monastery.
Hospitality is a hallmark of Benedictine monasticism, and men and women of all faiths are welcome to stay at our guesthouse, to share in our liturgy and to spend time in prayer and personal reflection.


__________________________________________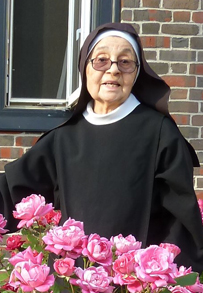 On Sunday, October 2, Sr. Maria was honored with Worcester Diocese's Award for Retired Religious at
St. Paul's Cathedral.