Vocation
Do you sometimes wonder if there is something more to life, but don't know how to find it? St. Benedict describes the monastery as "a school for God's service." All monks and nuns are students, striving to hear and discern the will of God. Like St. Andrew and his companion, we have asked, "Rabbi, where do you live?" and responded to Our Lord's invitation to "come and see" (Jn 1:38-39).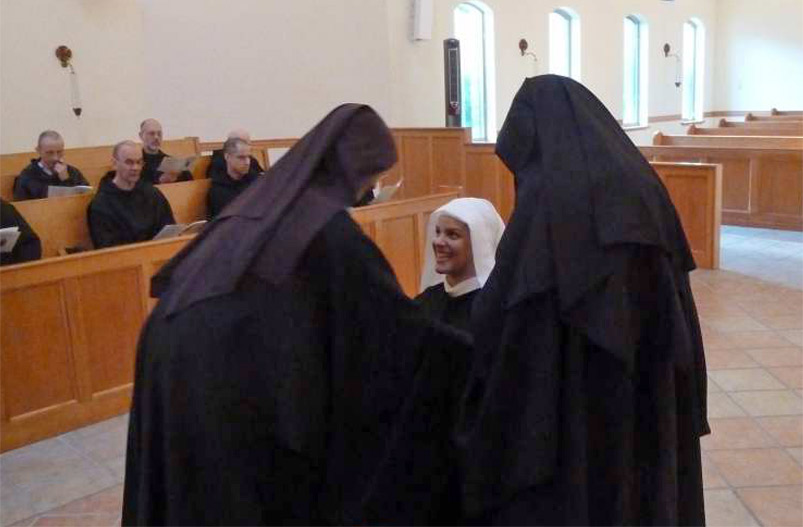 Becoming a Benedictine
We are often asked, "How do I know if I have a religious vocation?" "Are there concrete signs that will let me know somehow I'm even supposed to even investigate it?"
Each call is unique and God deals differently with each person. You have to learn how to listen to Him. People and circumstances, good times and bad, success and failure–God can use all means to show you His will. You may feel restless or dissatisfied with life or feel there must be more to life than what you are doing. If you feel like this or have ever felt like this, take a moment to read the following information on becoming a nun at St. Scholastica Priory. It may help you to find out more about yourself and what God is asking of you.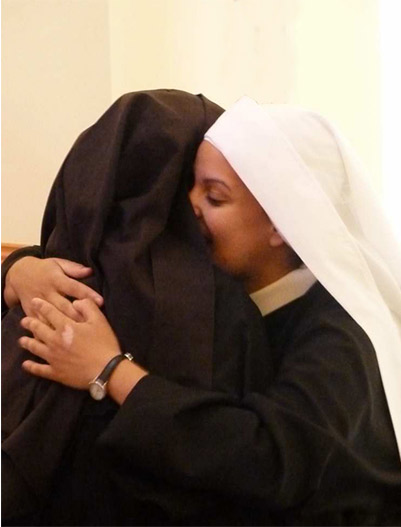 Vocation Discernment
The spiritual journey is simple but not easy. Much effort is involved. The words that St. Benedict uses for the cause of sin are laziness, sloth, drifting along; by contrast, when discussing the path of perfection, he favors words like work, run, fight–all antidotes to laziness. While we are called to perfection, not all can meet the particular challenges of the monastic path, which is in its essence the following of Christ, who "emptied himself, taking the form of a servant" (Phil 2:7). During the formation period, both the novice and her superiors try to discern if God is calling her to live in peace and love with others by granting her the necessary grace for the monastic life.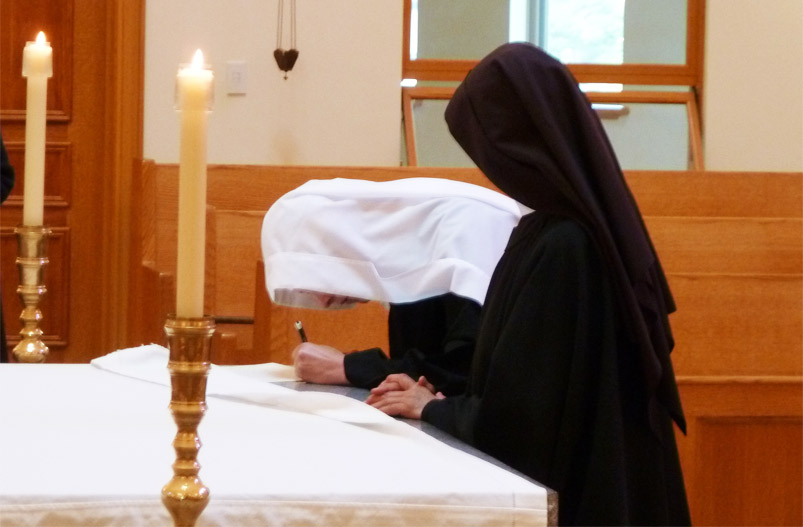 General Guidelines
Candidates for admission to St. Scholastica Priory must be single Catholic women between the ages of 20 and 40, mentally and emotionally mature, and prepared to undertake a life of stability, obedience, conversion of life in an enclosed monastery.
Love of God and neighbor and of the Church, her traditions and teachings are necessary.
The ability to live with others is essential. The keystone of the Benedictine way is love: love of God and love of neighbor. As St. Benedict counsels, we must find Christ in everyone, and support with the greatest patience and love perceived weaknesses of body or behavior.
No extant debts.
It is best if the candidate has had two or more years of work experience at a regular job after finishing college before applying to join. A college degree is not required, but ongoing study is an important aspect of our lives. Work experience is helpful – it gives one a more realistic idea of what life outside of one's own family is like and is a help to further maturity and a sense of accountability.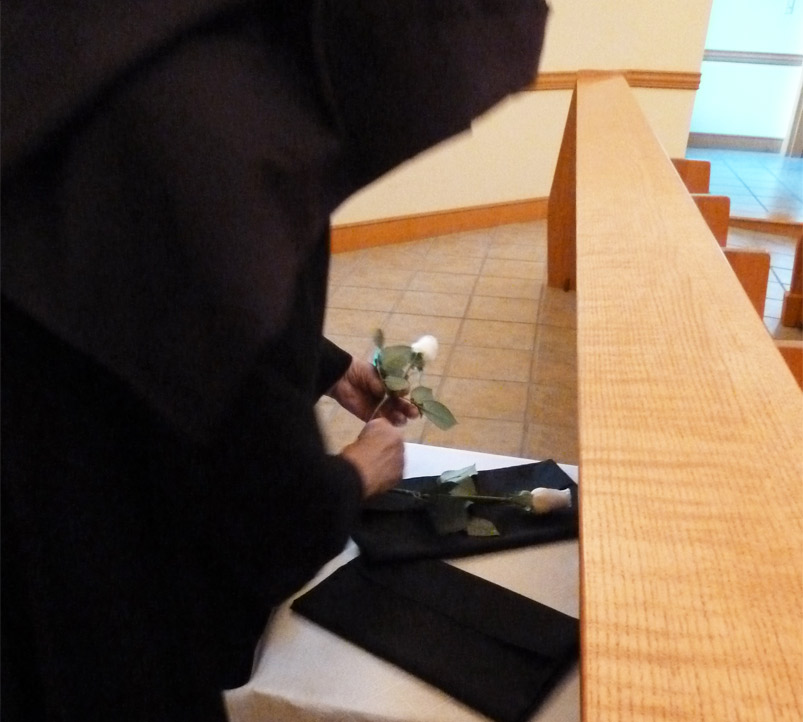 Becoming a Nun
The following are the ordinary stages for admission to full membership in the community.
Initial visits. The candidate makes a preliminary visit as a guest or a participant in a Monastic Experience Weekends. If she seems to have a possible vocation, she is invited to live with the novices in the community for a period of time, preferably a month.
Postulancy. If the sense of vocation remains, the candidate becomes a postulant for six months, living the life of the community. This period can be extended for an additional six months if deemed advisable.
Novitiate. Postulancy is followed by a one-and-a-half-year novitiate (sometimes extended to two years), during which the new novice dons the habit, receives a new name, and lives in the community under the direction of the novice director. Both novices and postulants special classes in Christian doctrine, the Rule, Latin, Gregorian chant, monastic history, and other subjects.
Temporary Vows. After the novitiate, the novice enters into temporary vows for three years (the period can be extended). At this stage, more time is allotted for study, and the nun may begin advanced studies in liturgy, scripture, etc.
Solemn Vows. With solemn vows, the nun becomes a full member of the community, with all the attendant rights and responsibilities.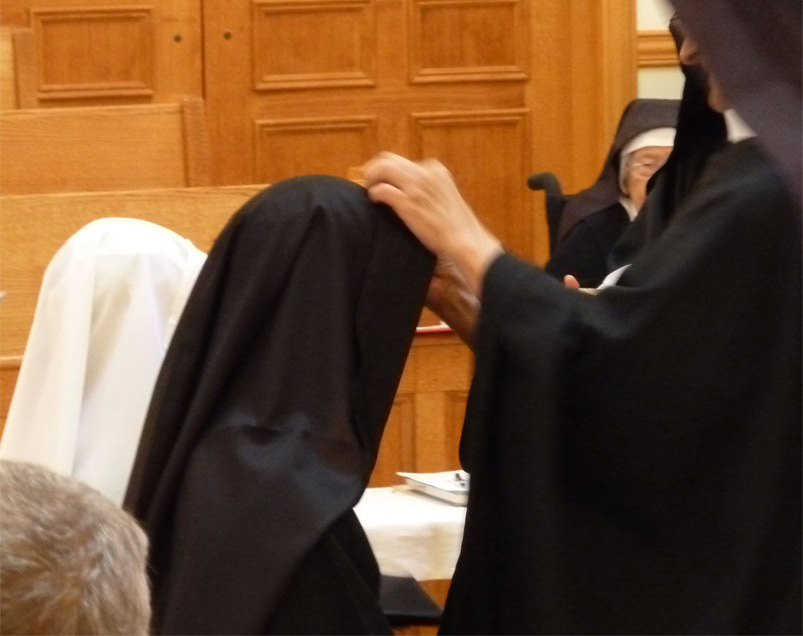 Contact our Vocations Director
Do you ask yourself if God is calling you to be a nun? Would you like to learn more about our community, or visit and see our life at firsthand? If so, contact our Vocations Director.
Note: The form does not work for all email addresses. If you don't hear back from us within a few days, (or if you have written us in the past months and not heard back), please write our Vocations Director at [email protected] Thank you!
---
LINKS
FURTHER READING
Vocations:

Cardinal Basil Hume, OSB, The Intentional Life: The Making of a Spiritual Vocation (Brewster: Paraclete Press, 2003)
Thomas Merton, OCSO, The Monastic Journey (Kalamazoo: Cistercian Publications, 1992)